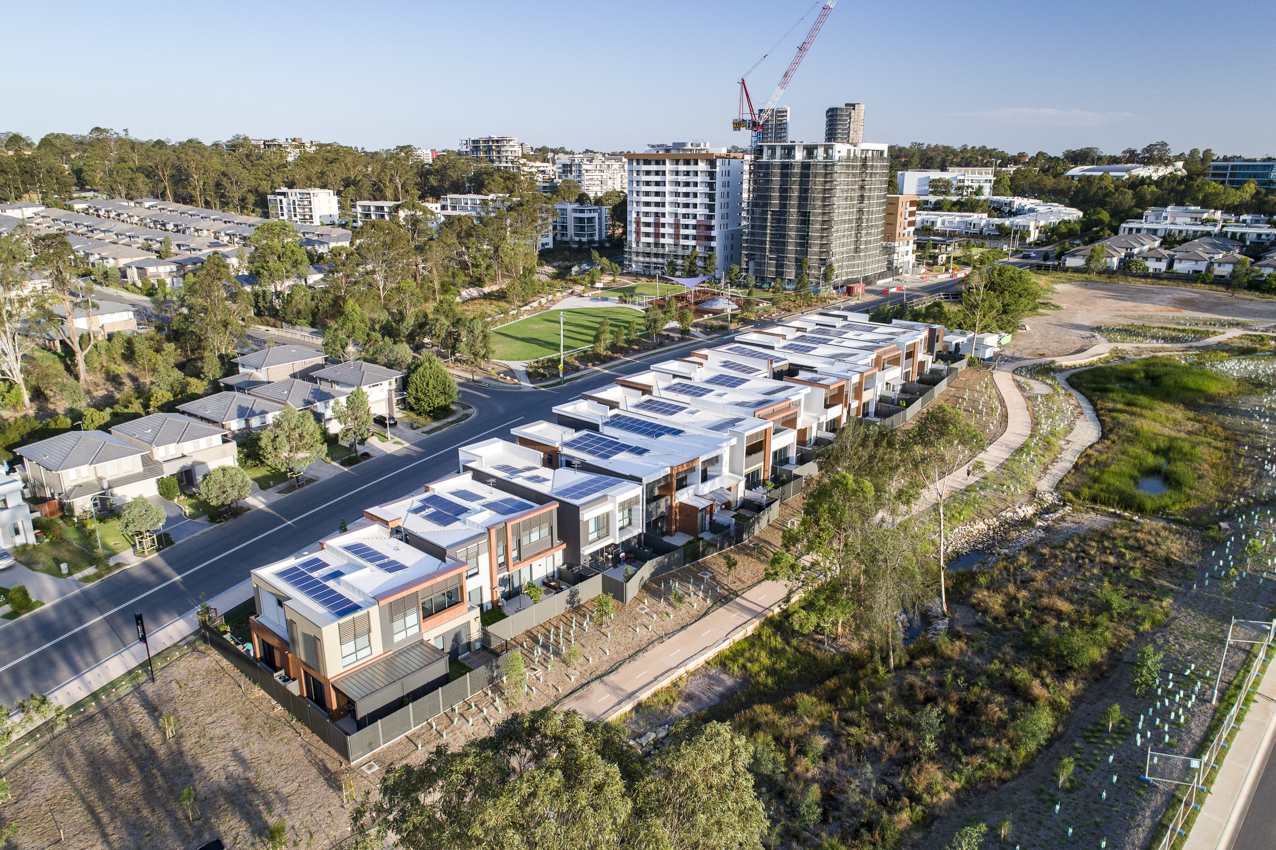 Essentia Redefining Medium Density Living
Essentia is redefining medium density living in The Hills Shire, bringing a refreshing level of complexity, individuality, elegance and innovation to the Sydney area. The sophisticated townhome community, Essentia, is set in Sydney's Norwest district and incorporates elements of luxury, wellbeing and modern technology.
Credited to our commitment and exceptional delivery of Stage 2 construction works, our team was engaged in an Early Contractor Involvement (ECI) capacity for the final stage. Our INTREC team have been working closely with Mulpha – one of Australia's most experienced real estate and hospitality investors; to deliver what has been dubbed as 'one of the most highly anticipated townhome developments' in NSW by the Urban Developer.
Being engaged in an ECI capacity has allowed us to work closely with Mulpha and various consultants to ensure positive final outcomes for both the client and end user. Our team provides a practical on-site perspective to ensure the design aligns with the construction and delivery processes. By being actively involved during the planning stages, we are able to help further refine the design, whilst generating greater cost efficiency through design rationalisation and bulk procurement opportunities.
To ensure the integrity of the initial design intent, we engaged Giles Tribe Architects. Giles Tribe is a leading architecture firm that has aided our team in amending the existing plans, marrying both a design and buildability perspective. The Giles Tribe team have worked closely with our in-house delivery and design team to help rationalise the design and make the necessary amendments based upon practical construction considerations.
"Working with INTREC in the ECI phase has meant that we have been able to bring our design skills to this phase of the project. It has also enabled us to integrate construction and buildability considerations earlier, thus avoiding post tendering re-design and re-documentation.  This has allowed us to incorporate the practical knowledge of the construction team into the detailing and tailor the documentation to the what the team need on site.
Ultimately, we believe this will mean less changes during construction and requests for additional information.  With the design, documentation and construction team working collaboratively it has been a great experience and has led to real value add for Mulpha and to the project."
 – Mark Broadley, Managing Director, Giles Tribe Architects.
Upon project completion in early 2022, we will have constructed 59 townhomes in addition to the 15 townhomes and singular prototype completed in the previous construction stage. These new-age homes are future proofed, incorporating elements of wellness,  sustainability and convenience, utilising state-of-the-art technologies to create a high-quality, new-age and digital lifestyle.
INTREC are extremely proud to be involved in developing smarter living solutions and providing infrastructure to sustainably improve quality-of-life for future generations. The level of detail conceptualised by Mulpha has created a new level of high-end, high-tech and convenient living. Working closely with Mulpha and Giles Tribe throughout the early stage of planning for the final construction stage has allowed us to rationalise and enhance the innovative design.
Learn more about our Early Contractor Involvement capabilities here. Please reach out via our Contact Form with any inquiries or future opportunities.