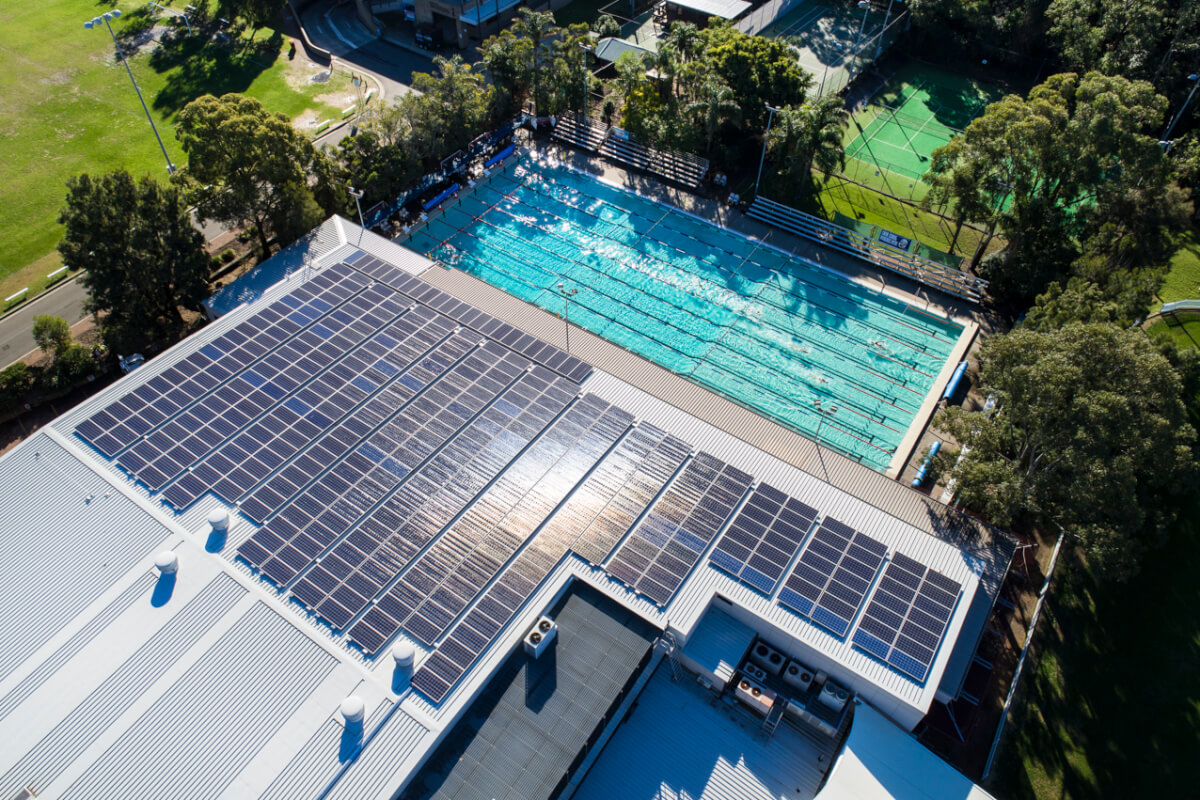 University of Wollongong – TLS Upgrade Stage 2 Well Underway
Assisting the University of Wollongong (UoW) to realise their sustainability goals, INTREC have now completed all Solar PV projects nominated in the TLS Stage 2 project. With Stage 1 solar (six projects) and Stage 2 (nine projects) now complete, INTREC have installed over one gigabyte of renewable Solar PV energy on the campus, equating to over 3,000 solar panels successfully installed!
INTREC have now also completed all nominated LED projects under the TLS Stage 2 project. This achievement sees over 14 buildings upgraded, transitioning from the existing fluorescent lighting to new LED lighting technology, also contributing to UOW's sustainability targets.
As part of Stage 2, the two thermal upgrade projects are well underway – 90% of all internal works are now completed along with the remaining works associated with the external central mechanical plant & equipment. INTREC have successfully coordinated these retrofit thermal upgrade projects within a live environment, keeping the buildings accessible for UOW staff and students who may require access to complete studies, research & experiments. The Building 1 thermal project is on track for completion in early April and Building 19 on track for completion end of May.
Our INTREC team have also successfully handed over the refurbishment of a new 1st year chemistry lab situated in Building 41 at the UoW Wollongong campus. The project consisted of the complete demolition to an existing lab followed by an extensive high-end refurbishment with new lab grade services. The electrical services and lighting were upgraded, as well as a full mechanical refurbishment, which consists of highly technical elements such as reverse osmosis showers and a vacuum system.
INTREC also coordinated the installation of the lab joinery which included lab benches, cupboards, Trespa worktops & finishes and lockers.
All new services for the lab, including new chillers, air handling units, vacuum systems, reverse osmosis plant & fume cupboard exhausts were positioned on a custom rooftop structural plant deck. This structural plant deck was constructed over an existing lab which required careful engineering and installation to ensure the structure was adequately supported to cater for the new & existing loads. INTREC worked closely with Northrop Consulting Engineers to ensure that this transition was completed as safely and seamlessly as possible.
The project's success to date is a reflection of INTREC's expertise when working with occupied Tertiary Education environments. Our team have the sensitivity, technical knowledge and experience required to successfully deliver a project to the satisfaction of all University stakeholders. To find out INTREC could add value to your next project, please contact us via our Contact Page.