Developed through our extensive experience delivering projects within highly sensitive Health and Aged Care environments, our systems and processes regarding Hygiene and Infection Control are consistently evolving to enable our continued operation onsite.
INTREC continue to adhere to Government guidelines and regulations in response to COVID-19. We understand that business continuity, value-engineering and timely project completion are key drivers for our clients during this difficult time. Our team is ready and capable as always to deliver outstanding interiors, refurbishment and construction projects in New South Wales, Victoria and Queensland.
INTREC's priority is the health and safety of our team. We understand that we are dealing with a rapidly-evolving situation, and continue to monitor the advice and direction of the World Health Organisation (WHO), Australian Government Department of Health and State SafeWork bodies on a daily basis.
Our Executive Management Team have implemented an internal business continuity and pandemic response plan, including proactive precautionary measures to protect the health of our people and minimise risk or disruption to our clients and services.
DOWNLOAD INTREC COVID-19 POLICY HERE
We are committed to maintaining the following measures across our offices and construction sites: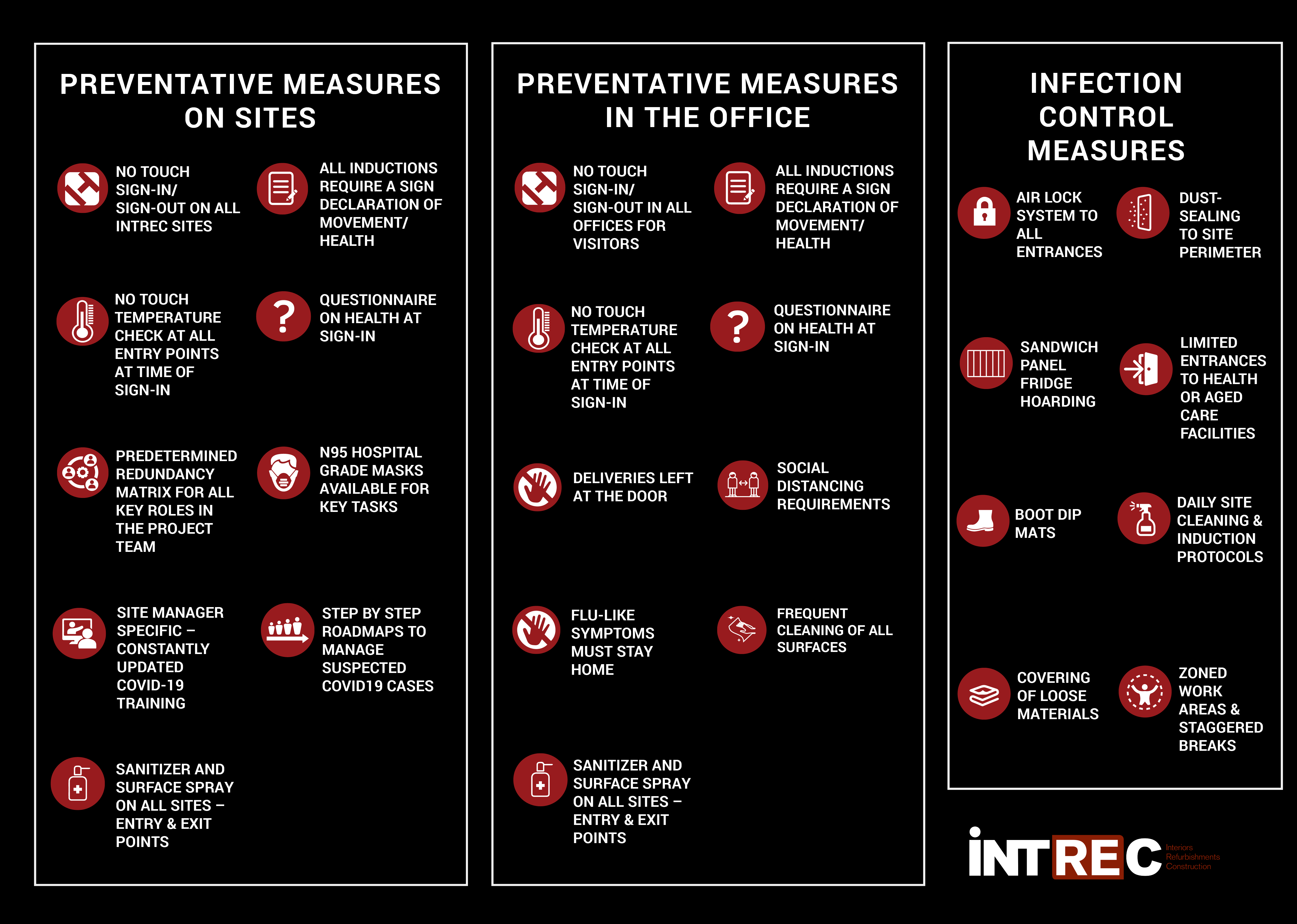 Regular communications regarding INTREC's COVID-19 precaution updates are available to all employees, along with adaptable working from home options, travel precautions, exposure restrictions for group gatherings and active Safety and Compliance Team guidance.
We are pulling together as a community to support our staff, clients, contractors and broader network by continuing to keep our projects open.
Our goal is to maintain our business, support our network and rise through the COVID-19 situation as better people and better operators.